Domestic Terminal
Domestic Terminal
3F

Meeting and Sending-off Deck

A viewing deck for watching aircrafts take-off and land is available.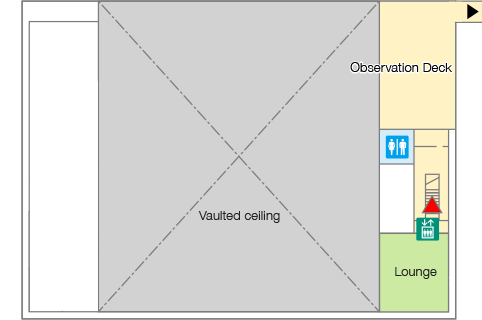 2F

Departure Lobby (Shops & Restaurants)

Following the pre-departure security check, you can board your flight.
Shops selling Yamaguchi specialty products are available. There is also a waiting room where you can eat and relax.

Yamaguchi Special Plaza
ANA FESTA
Toshiro Japanese Sweets
COCO'S Restaurant
Asuka-tei Restaurant
Kakuuchi Nabesima Bar
Yamaguchi Workation General Information Facilities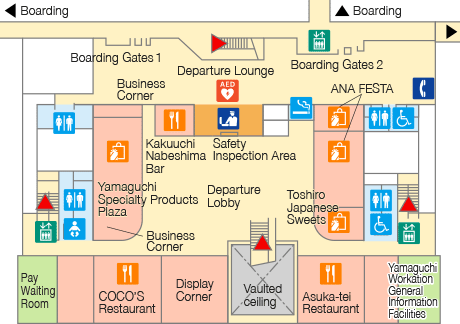 1F

Check-in Lobby/Arrival Lobby

Boarding procedures can be carried out here.
Transport information for bus stops and taxis is available.

Yamazaki Shop
JALCheck-in Counter
ANACheck-in Counter
ATM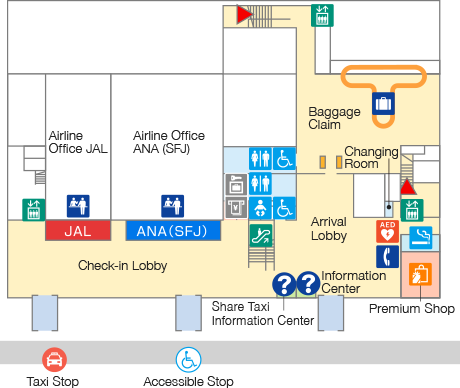 Legend
Check-in
Counter
Safety Inspection Area
Waiting Room
Baggage Claim
Information Center
Information Corner
Restrooms
Accessible Restroom
Nursing Room
Smoking Room
Coin-operated Lockers
ATM
Shops
Restaurants
Automated External Defibrillator (AED)
Escalator
Elevator
Busses
Taxis
Accessible Stop